Group Accommodation
If you are looking for accommodation for your group booking, Waunifor has a lot to offer. We have six holiday cottages available (sleeping 2, 4, 6, 6, 8 and 10 people) which provide accommodation for up to 36 people in total. We have a lot of twin bedrooms and singles along with a few double rooms and if you want single occupancy the six cottages provide a total of 20 bedrooms with the larger cottages, Coachhouse and Longhouse having 2 bathrooms (Stable Cottage has a separate shower cubicle). You can choose the exact combination that best fits your group whether it is a family reunion, group of friends, training workshop, theatre group or wedding party. We understand that numbers change close to the event so try to be as flexible as possible if you need a different choice of cottages.
If you require an event space or meeting room we have several available suitable for 10-100 people which can be hired by the day or for a full week. When it comes to meals, you can either choose to be self-catering and hire the catering kitchen adjoining the Rendezvous Meeting Room or use the kitchens in the cottages for meals or we can provide full or partial catering for your event.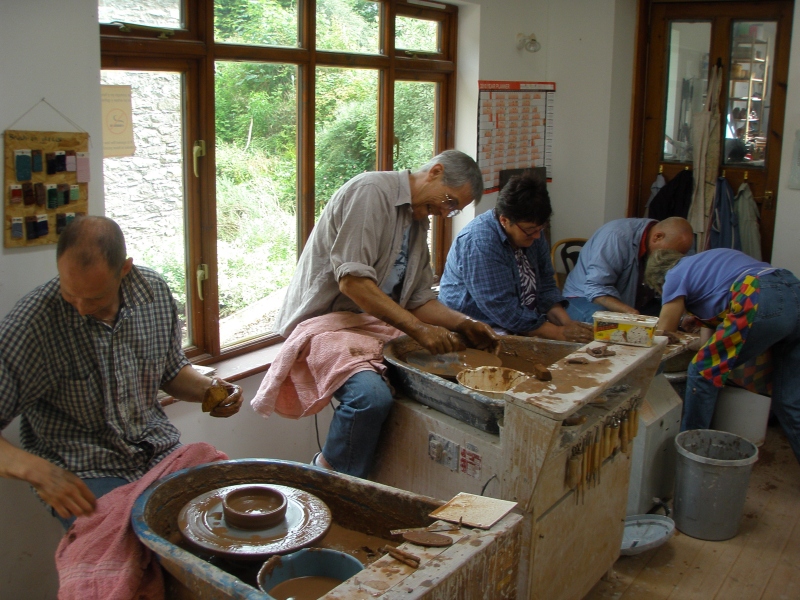 For team building sessions we offer a variety of workshops. We have a dedicated pottery studio on site and David, our potter with over 20 years experience, has 3 pottery wheels in the studio and can teach 'throwing on the wheel' which is very popular. Lisette is our crafts tutor and has many years experience teaching a variety of age groups. Her workshops take place in the Rendezvous, a delightful airy and spacious room, and include felt making, mosaics, glass painting, bead-making, card making, jewellery making and crazy mosaics. We can sometimes offer other workshops such as soap and bath bomb making, screen printing and Team building. We will also be offering other 'Experiences' soon such as 'Wellbeing Through Nature' walks and 'King Arthur History trails'.
There are a lot of activities available in the local area including canoeing, rafting, rock climbing and coasteering at nearby Llandysul Paddlers and water sports at New Quay on the Cardigan Bay coast. There are several local riding stables and trekking centres offering rides across the magnificent and wild Llanllwni Mountain and through Brechfa Forest. Brechfa Forest also has many excellent mountain bike trails.
In addition we can provide information about a whole range of activities available in the local area.
To inquire about booking one of our cottages please contact us.
'We had a cracking weekend. We visited New Quay and Llangrannog and saw some dolphins and seals, paddled on the beach, had fish and chips and bara brith. We enjoyed a couple of delightful walks along the coastal path and had lots of fun back at Waunifor where we were able to get 13 around the table in The Longhouse. The accommodation was spot on for our group and we really liked The Coachhouse as it has bedrooms and bathrooms at each end. We hope to back again some time in the future'
Dave from 45nSingle group,
'Firstly can I say a big thank you for all your hard work and friendship last week. None of us wanted to leave and that is a first for me! Everything about Waunifor is so healing and beautiful and we hope to return one day' Linda who brought a group of children with special needs for a week of pottery and craft making.